Communication Steel Tower Manufacturer
Kehang Steel TowerCorporation is a leading manufacturer of communication towers in China and throughout the world. We currently serve customers in diverse industries such as:Wireless , Alternative Energy , Government , Military , UtilityContractors , Security & Surveillance , Mining , Oil & Gas
20 years, we have been providing quality, affordable, erector friendly towers and mounts to the industry. By leveraging our unique combination of experience in engineering, manufacturing, quality, and information technology – Kehang has grown to be one of the premier communication tower manufacturers in the last decade. 
Design and Manufacture scope and Specification:
1) Material:All types,GB/ASTM/JIS/EN.
2) Yield strength:235 MPA-460MPA
3) Voltage Grade:10-1000KV
4)Type of Conductor: vertical,triangle,horizontal.
5) Wind velocity:23.5m/s-35m/s.
6) Span:Below 1000m.
7) Height:5-80M
8) Self Supporting Communication Steel Tower Surface Treatment:Hot dip galvanized,Painting,spray-paint.
9) Coating Thickness:According to your requirement.
Avaivable Height:   5-100M
Wind Pressure:  5-180 KM/H
Material:  Q345B/A572,minimum yield strength >=345N/mm2;
Q235B/A36,minimum yiled strenght>=235N/mm2;
Galvanized:  Hot Dip Galvanization
Delivery Lead Time:    25 Days after receiving 30% Deposit
Lifetime:  Minimum 25 years
Working & Resting Platform Quantity:    1-3 PCS
Working & Resting Platform Quantity:    3-18 PCS
Antenna Support Quantity :    3-18 PCS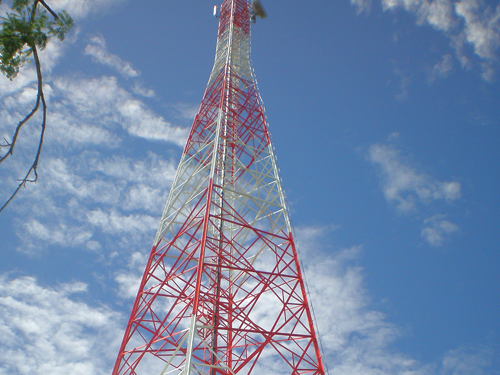 Self Supporting Communication Steel Tower
---
What is a communication steel tower?
The communication tower belongs to one of the signal towers, also known as the Signal Tower or communication tower in the modern communication and radio and television signal Tower project construction, regardless of user choice of the plane or the tower of communication towers, have a high communication antenna, increase communication or television transmission signal service radius, to achieve the ideal professional communication effect.

Mainly used for the erection of mobile communications antennas, microwave Tower general use of four columns of angle steel or steel structure, with lightning rod, work platform and ladder communication tower steel using Q235 steel, the technical conditions should meet the gb:700-88 standards.
---
Performance Standard :
Besides conforms to the drawing and design, the materials and fabrication of tower components shall conform to the following standards (Chinese Standards) and customer's requirements. 
Steel pipe/angle/hybrid tower welding requirements 
1).we used CO2 welding and submerged arc auto welding or other methods. 
2).Welded seam shall be full penetration and grinded. 
3).The welded product has no fissure, scar, overlap, layer or other defects. 
Steel tower Galvanization/color painting
All steel items ,bolts ,nuts ,washers & other components to be hot -dip galvanized with uniform. As per (ASTM-A-123).paiting for corrosion proof
Welded requirements:
We used CO2 welding and submerged arc auto welding or other methods
Welded seam shall be full penetration and grinded
The welded product has no fissure, scar, overlap, layer or other defects
Galvanization:
All components are hot-dip galvanized with uniform
Related Production:
Power Transmission Line Tower
Communication Tower
Substation Steel Structure
Flare Tower
LSAW Steel Pipe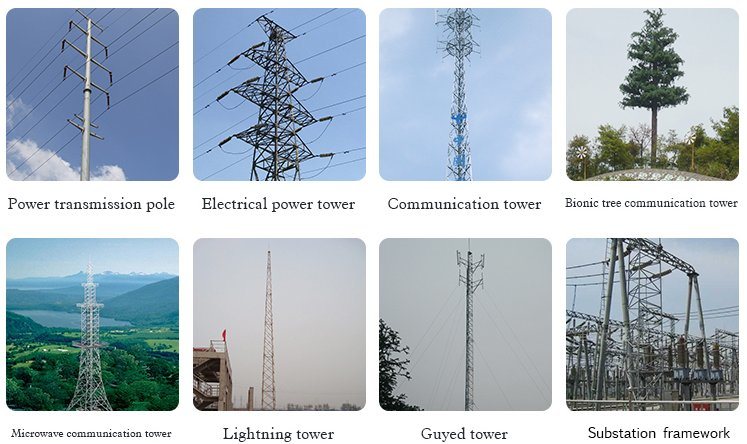 Quality Test:
Before put into production, all the material must pass the chemical and physical analysis to make sure that they have met the requested strength and component. we have more than 15 inspection procedures from incoming raw material to finished products
4 legged angular steel Self supporting steel lattice Communication tower
US $1000-1350 / Ton
1 Ton (Min. Order)
Communication Tower – Telecommunication Tower
50 Tons (Min. Order)
Customized Steel Structure Monopole Communication Tower
US $1500.0-2000.0 / Ton
1 Ton (Min. Order)
Galvanized 3 legs self supporting cell tower steel pipe communication tower
US $100-1000 / Piece
1 Piece (Min. Order)