Tower structure Design Specs
5.1
Antenna Loading
5.1.1 Square GSM Self supporting steel tower of height 20m and above:
a. Installation of 9 numbers of GSM antennae of size 30cm x 2.5m weighing 37kg each.

b. Installation of 2 numbers of 1.8m. Diameter microwave dish antennae weighing 75 kg each.

c. Installation of 2 numbers of 2.4m. Diameter microwave dish antenna weighing 200 kg each.

d. The weight of antenna mount of each antenna shall be assumed as 15 kg.
5.1.2 Square telecommunication lattice tower of height 15m and below:
a. Installation of 6 Nos. GSM antennae of size 30cm x 2.5m weighing 37kg each.

b. Installation of 2 numbers of 1.2m diameter microwave dish antennae weighing 50kg each.

c. Installation of 2 numbers of 1.8m Diameter microwave dish antennae weighing 75 kg each.

d. The dead weight of antenna mount of each antenna shall be assumed as 15kg.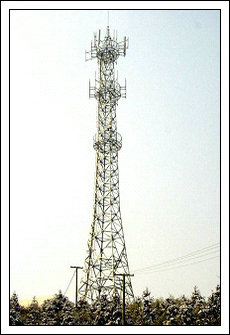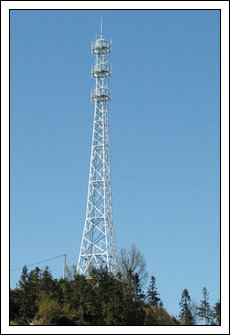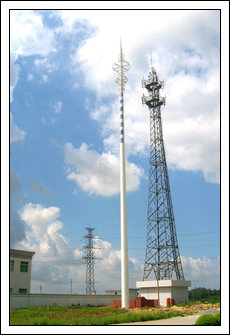 Cable Ladders
A hot dipped galvanized steel cable ladder should be installed between the telecommunication lattice tower and the container or outdoor cabinets to support the coaxial cables. Steel cable ladders should be delivered & installed between the shelter and tower. The cable ladder shall be 400mm minimum width with horizontal rungs spaced at 500mm maximum. The cable ladder profile shall be of shape and size to provide fixing arrangement for standard cable clamps such as Andrew, FEMA, RBS or other acceptable clamps for cable sizes of ½" through 1⅝".
The cable ladder shall be delivered complete with all nuts, bolts, and clamps. The cable ladder shall be supported by hot dipped galvanized steel vertical adjustable (telescopic) supports having precast reinforced concrete foundations on the ground with minimum 20cm buried under the ground.
If requested by Omantel, the cable ladder shall be covered with a hot dipped galvanized steel cover, (to prevent damage to the cable) suitably fixed to the cable ladder.
The distance between the tower & the container is normally kept minimum; however the contractor is obliged to provide cable ladder in-between the GSM Self supporting steel tower & container regardless of the distance. In addition, the cable ladder should be designed, manufactured & installed in such a way that the unsupported length shall not exceed 3 meters in order to avoid bending under the weight of the cables.
Vertical Cable Support on GSM Self supporting steel tower
The vertical feeder supports shall be provided adjacent to the climbing ladder capable of supporting maximum number of feeders for the ultimate system. The spacing between feeder support bars shall not exceed 0.8 meter. The vertical cable support shall not obstruct the feet of the climbing person; therefore the minimum distance from the climbing ladder to the support shall be 0.25 meter.
Climbing Ladder
Climbing ladders (and vertical cable supports) shall be fixed at the nearest leg of the telecommunication lattice tower to the shelter and it should comply with local & international safety standards and specifications with regard to their dimensions, mounting, material, etc.
The climbing ladders shall be fixed to either horizontal bracings or legs but should be adjacent to the vertical feeder support. The design of the access ladder shall be according to BS 4211.
Ladder shall not be less than 450 millimetres wide with rungs fixed at not more than 200 mm spacing. Galvanizing to be at least 610 gram of zinc coating per square meter.
Ladders shall have a continuous safety cage, constructed of loops separated by not more than 1 meter, and with not less than three vertical back strips. Construction design should be such that the safety cage is rigid.
The ladder top piece must extend at least 1 meter beyond the top working platform so that a secure access from the ladder to the platform is possible. Sharp edges that could lead to injuries should be avoided.
The ladder rungs must be able to withstand a concentrated load of 1.5kN.
Rest platforms shall be provided along the climbing ladder with intervals not exceeding 15 meters. Rest Platforms shall be strong enough to withstand 2kN concentrated load.
The platform floor shall be textured metal sheet or similar and shall be rigidly supported.
The platforms shall be fitted with a metal to board and guard rail at one meter level with a maximum free vertical spacing of 400mm.
The entire GSM Self supporting steel tower height shall be provided with anti fall arrest system consisting of rail, harness and trolley.
       
Fasteners Bolts, nuts and washers
The connection bolts, nuts and washers will be according to any of the following standards   (or equivalent):
Mechanical properties of fasteners

prEN 781/2 Hexagon bolts for high strength structural bolting

prEN 784/5 Plain washers for high strength structural bolting

Bolts

EN 24014 Hexagon head

Strength class 8.8

Plain washers

ISO 7089

Galvanizing

Hot dipped

Nut lock

The nuts will be locked so that they won't get loose during the operation. The proper tightening torque will be defined in the document
 Dimensional standards for fasteners
| | |
| --- | --- |
| Bolts | DIN 7990, 6914, 933, 607, 6921, 931, 960 961 |
| Nuts | DIN 555, 7967, 934, 6915, 439-2 |
| Washers | DIN 7989, 6916, 126, 434 |
| Spring Washers         | DIN 127, 128 |
| Anchor Bolts | As per requirements |
 Safety Railing
The work platform should be equipped with a top handrail of tubular or angle profile, galvanized steel. The safety railing is capable of carrying a 1kN concentrated load. There is an intermediate rail at a height of 0.6m. A kick plate (toe board) 0.1m in height is installed around the platform to prevent tools or other objects from falling from the tower.
Aircraft Warning System
The Aircraft Warning System of the telecommunication tower should be designed, supplied & installed according to AWL Standards & Specifications that are described in documents