Why should the transmission line use Double Circuit Tower?
1. Conceptually: Single circuit refers to a load has a power supply circuit; A double loop is a circuit that has 2 power supply in one load.
In fact, the most important protection of electricity reliability …
2. The general area important substation, all uses the double return line power supply.
With his double circuit is a unit of electricity with two power supplies simultaneously erected over.
3. Dual-split conductors are also used in transmission lines.That is, one phase is composed of two wires, the aim is to increase the amount of power transmission, reduce the integrated impedance of the system, strengthen the connection of the grid, make it stronger.
4. The same tower double back transmission line, is the two ends of each other for power supply, usually sometimes as a standby, such a double loop, is generally the form of ring nets, is a to B, B to a power supply mode. Also has the same tower double return tower to erect the tr.ansmission line, in order to transmit the bigger transmission power!
The foundation is larger than the single Circuit foundation, naturally in order to guarantee and improve power supply reliability, balance load. Good safety performance at the same time the transmission power is large.
---
KEHANG provide the double circuit and multi circuit transmission lines for our esteemed clients. The Tower Line work involves Survey, check survey, and span calculations essential for tower
extensions. Moreover, Tower designs and prototype approval is done. The towers are for 35KV, 66KV, 110 KV, 132 KV, 220 KV, 400 KV, 500KV, 750KV, and 800KV.
A double-circuit transmission line has two circuits. For three-phase systems, each tower supports and insulates six conductors. Single phase AC-power lines as used for traction current have four conductors for two circuits. Usually both circuits operate at the same voltage. In HVDC systems typically two conductors are carried per line, but rarely only one pole of the system is carried on a set of towers.
Both tubular and lattice steel towers can be designed so as to support two circuits of electrical current. Double-circuit towers hold the different conductors stacked atop one another, while in single-circuit towers the conductors are lined up horizontally.
 Double Circuit 35kV 380kV Q235 Transmission Line Steel Pole Tower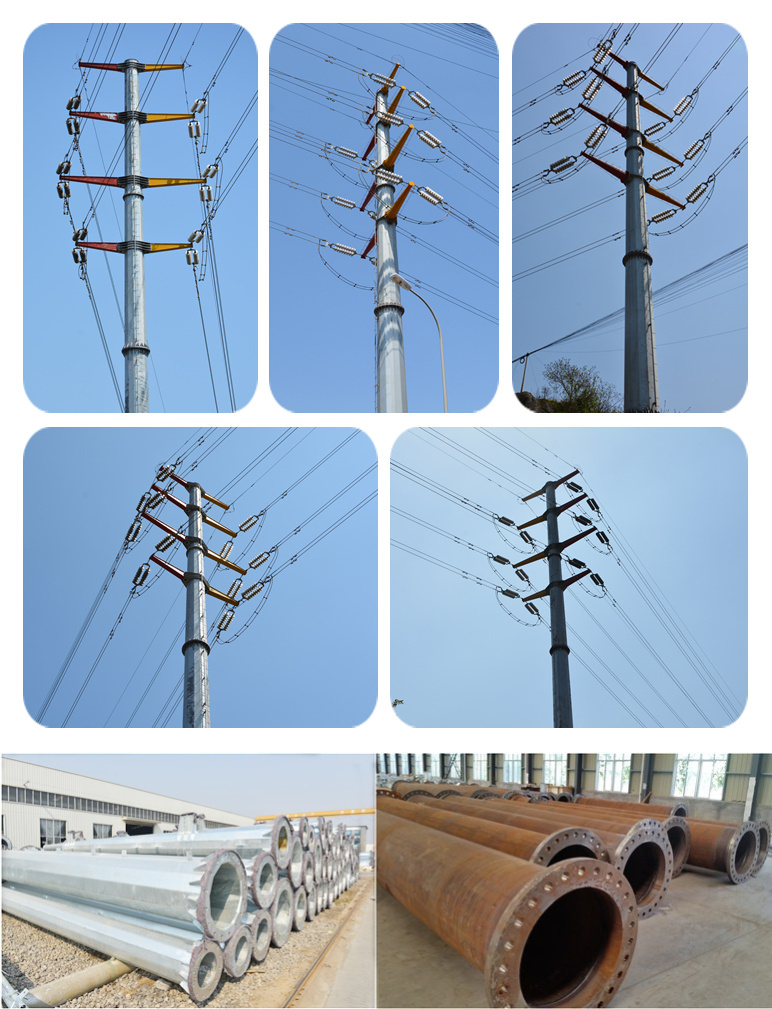 KEHANG is one of the few manufactures who assemble a face of double circuit transmission tower. This attention to quality may not be the cheapest process but it does insure every tower meets our high standards of quality. And it helps to reduce on-site construction cost due to mismatched assemblies.
After fabrication all double circuit transmission tower are delivered to the galvanizing facility to be Hot DIP Galvanized. Towers are processed through the facility by Caustic Cleaning, Pickling, and then Fluxing. These strict procedures insure years of maintenance free towers.
KEHANG Tower Technology Co.,Ltd is a professional enterprise engaged in design, manufacture and installation of steel structure projects, operating under the KEHANG Tower Science and Technology Inc., which covers an area of 136,000 m2, construction area of 43,000 m2. With the annual production capacity of 80,000 tons, KEHANG Tower Science and Technology Inc. ranked top five in the steel structure industry. The company was listed on the New OTC Market in Aug. 2014, as the first listed metal structure products enterprise, entering the New Third Market innovation zone. The company has a staff of more than 2000, including more than 50 engineering and technical personnel.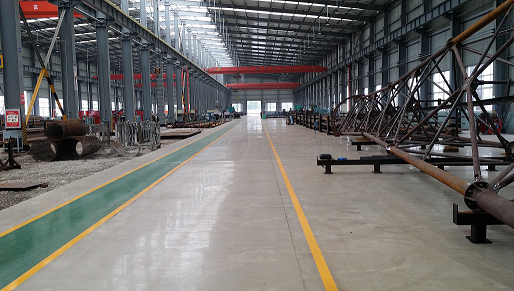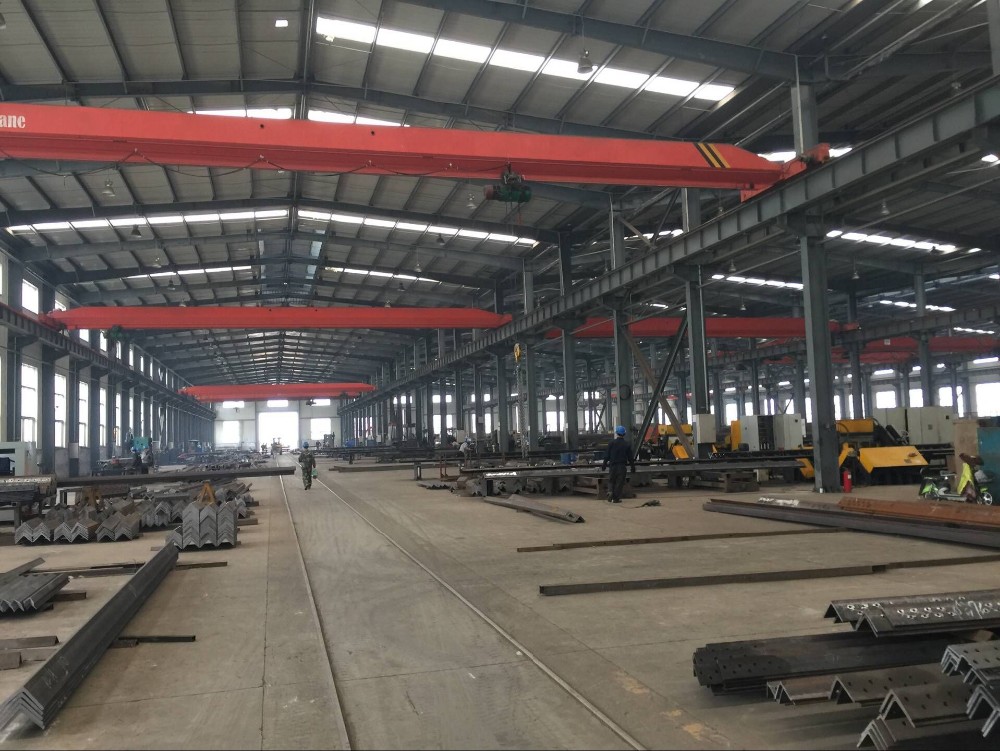 1.Factory                                                2.Workshop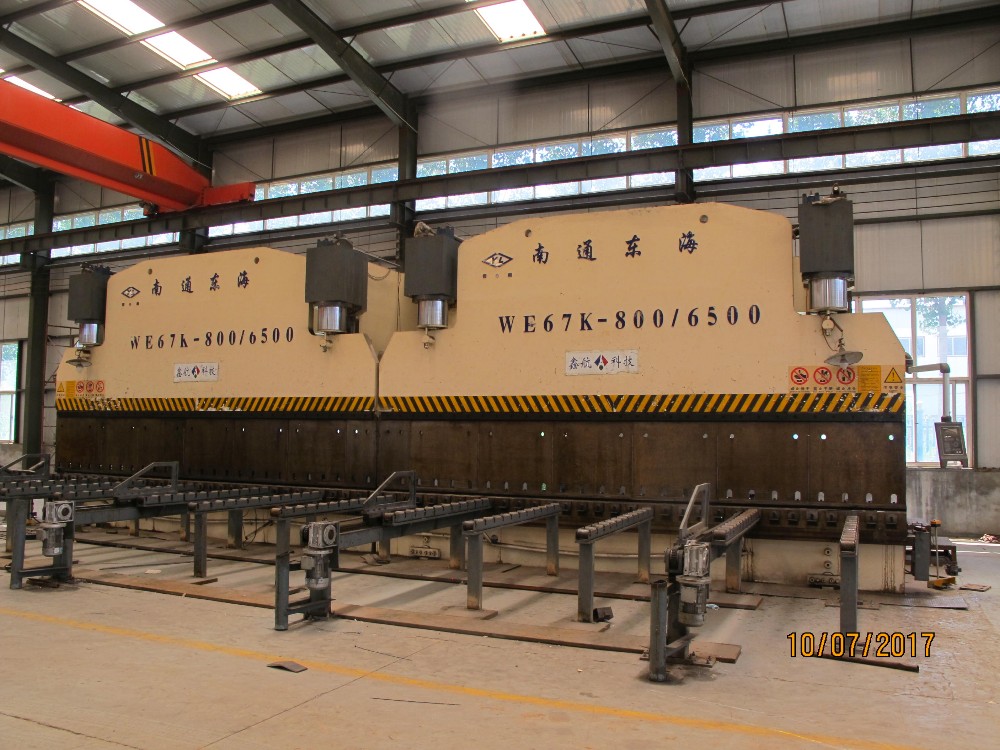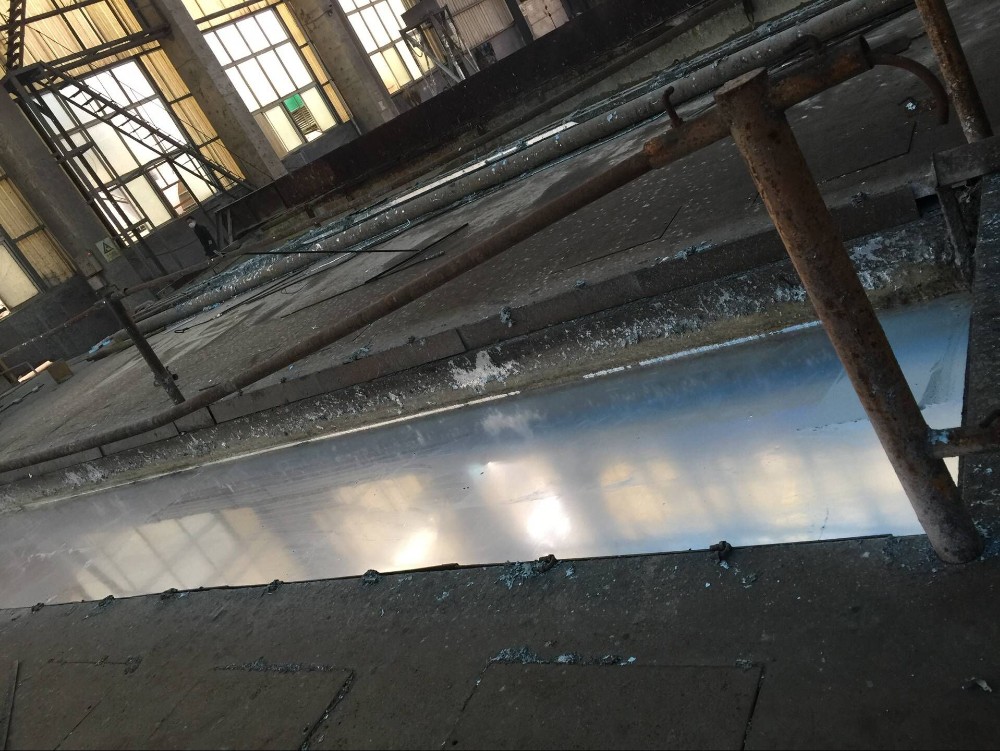 3.Equipment                                                               4.Galvanization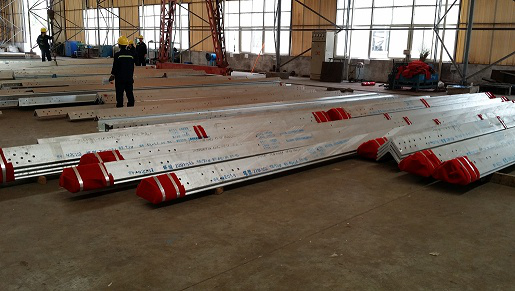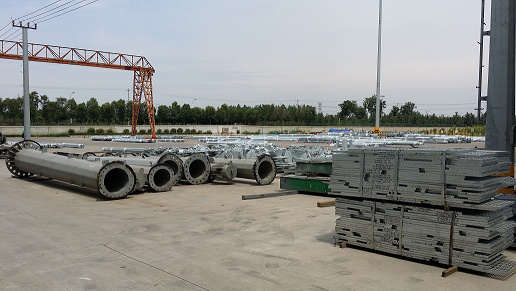 5.Warehouse                                                6.Stockyard
Products 
Double Circuit 35kV 380kV Q235 Transmission Line Steel Pole Tower
 Type
 Power transmission pole, power distribution pole, steel pole, street lighting pole, garden pole, square pole
 Shape

 Conical, Round, Polygonal

(Octagonal, Dodecagonal, Hexadecagonal, etc)

 Material
           Normally   Q345B/A572, Minimum Yield Strength ≥ 345 N/mm²

      Q235B/A36, Minimum Yield Strength ≥ 235 N/mm²

As well as Hot rolled coil from ASTM A572 GR65, GR50, SS400, or any other standard by client required.

 Power Capacity
 10~220KV

Wall Thickness

2~30mm

Welding

Welding complies with AWS D1.1 standard. 

CO2 welding or submerged arc auto methods

No fissure, scar, overlap, layer or other defects

Internal and external welding makes the pole more beautiful in shape

If customers need any other requirements of welding, we also can make adjustment as your request

Galvanization

Hot dip galvanization in accordance with Chinese standard GB/T 13912-2002 and American standard ASTM A123; or any other standard by client required.

Joint 

Joint with insert mode, flange mode.

Design of Pole

Against earthquake of 8 grade

Wind Speed

160km/h  30m/s, or any other standard by client required.

Length of per section

Within 14m once forming without slip joint

Painting

According to clients' request

Life Period

More than 25 years, it is according to installing environment

Certificates

ISO9001-2008 , Test report of 220kV Steel Tubular Tower & Transmission Line Tower 500kV, Certificate of Conformity of Factory Production Control from LIoyd's Register, etc
Inquiry Now
Double Circuit 35kV 380kV Q235 Transmission Line Steel Pole Tower
Main Products