Television- and radio-transmitting towers are among the tallest and most fragile structures built, with some up to 2,000 ft (609.60 m) in height. Since the early 1930s, there have been hundreds of documented tower failures that have resulted in total or partial collapses. Losses can be due to wind loadings, ice formation, earthquakes, lightning, floods, collapses during erection, vandalism, and insulator and structural failures. Other losses can occur when aircrafts collide with them. Structural failures are most often related to poor maintenance or overloaded structures. Lives and property are at risk when a tower fails; the risk is greater in urban areas. In addition, there will also be loss of business income if the tower is unusable and transmission is interrupted for an extended period of time. It is important, therefore, to assure that towers are adequately designed, constructed, inspected, maintained, and equipped with the proper devices so that they function safely and efficiently. The towers considered in this report are open frame, trussed towers composed of metal members. They are used to support antennas for FM radio and television transmissions, as well as microwave dishes
Radio broadcasting TV Steel Towers is made up of the tower body, platform, the lightning rod, gym, antenna support structure, such as composition, and the hot dip galvanized anti-corrosion treatment, mainly used in the microwave, ultrashort wave, wireless network signal transmission and emission, etc.
Radio broadcasting TV Steel Towers,signal monopole transmission towers
| | |
| --- | --- |
| Height | 0-250 meters |
| Wind speed | 0-220 km/hr (3s gust) |
| Foundation type | Independent foundation/Raft foundation/Pile foundation |
| Geological condition | Soft ground/ Mountain ground/ Other |
| Shape | Triangular / Square |
| Connection type | Bolts |
| Design code | ANSI/TIA-EIA-222-G |
| Material grade | Q235/345 |
| Deflection | <1/1000 or as client's requirement |
| Design load | As per client's requirement |
| Design life | 30/50/100 years |
| Quality system | ISO 9001:2008 |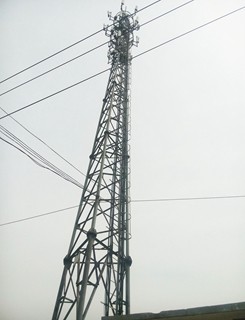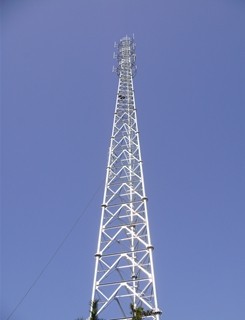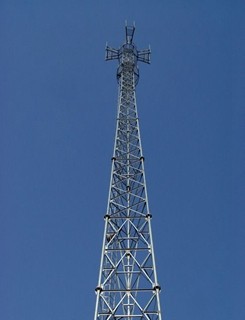 Full-service custom manufacturer of radio and television communications towers. Self and elevator support, galvanized or coated, goal post, guyed and monopole towers are available. Offered in solid and tubular leg designs. Steel tower modification materials include split pipes, x-bracing, bridge stiffeners and U/V-bolts.
Self-supporting towers
are offered in heights ranging from 5 ft. to 500 ft. Accessories such as ice shields, side arms, bridge plates, base foundations, platforms, manlifts, hoist beams, dish mounts, sector frames, lighting systems, safety climbing devices and guy, base and strain insulators are available. Engineering, drafting, dismantling, ground planning, ultrasound, sweep and megger testing, third party inspection and analytical services are available. FM approved. On-time delivery available.