Self-supporting towers, sometimes referred to as "free standing antenna towers" or "wireless communication towers" are the most popular and versatile type of structure used today in the wireless industry. At Nello, we specialize in self-supporting towers with the following features:
Available in solid leg, tubular leg and angle leg
Please inquire about custom designed steel self-supporting towers that are built to specifically suit your needs. Contact us now. 
Designed to latest EIA/TIA-222 standards (currently Revision F or G)
Galvanized per ASTM 123 standards
Extensive engineering package detailing member size and steel grade
Towers are available in other sizes and heights.
For larger self supporting towers, manufacturers often provide climbing provisions on each of the tower legs, step bolts being the most common. Since lighting fixtures and antennas may be distributed on any of the three tower legs, it must be practical to access each leg individually. Some designs provide for welded sections in the top 20' to 80'.
There are multiple manufactured designs, each one having installation or shipping benefits, from tubular, solid and truss-style solid legs to back-to-back angles. When estimating your installation cost, identify whether the design will affect the total number of days budgeted. In example, an inexperienced crew erecting a back-to-back angle structure might take 5% to 10% longer to construct the tower.
Available in heights from 20' to over 400' (7m to over 140m)
Our in-house professional engineering team uses a proprietary design program that iterates through dozens of configurations to find the most cost-effective tower combined with the most efficient foundation design possible for each project. By utilizing this iterative design analysis, Nello is able to save our customers and their erection contractors both time and money.
---
Standard Self-Supporting Tower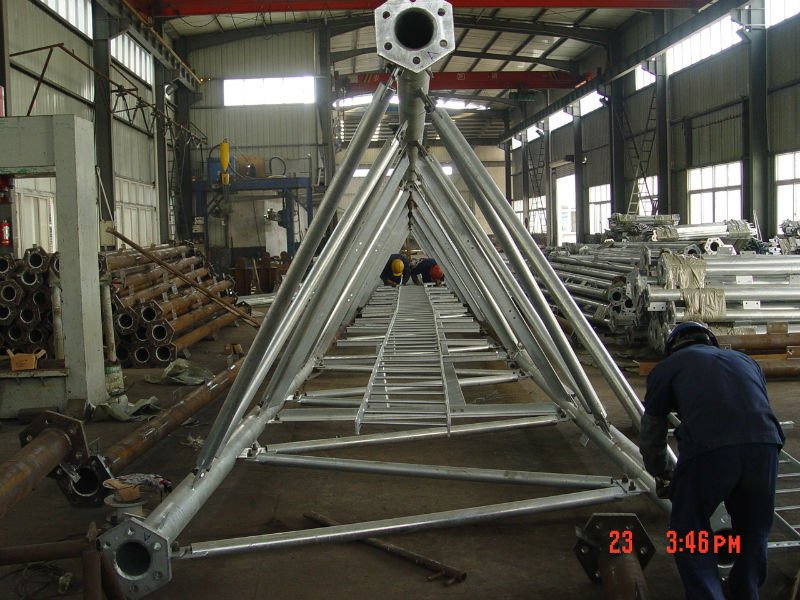 Our Standard Self-Supporting Tower comes with these standard items:
All sections & components are hot-dipped galvanized per ASTM A 153
All steel is manufactured to ASTM specifications with mil certificates Anchor
  Bolt Base Cage
20′ Climbing Ladder sections with solid 3/4″ rungs
Top Plate with a 2″ x Schedule 40 x 29 1/2″ Pipe Extension for the top mounting of your antenna EIA Grounding Materials
Hardware
---
ROHN 25G Self Supporting Tower
The Self-Supporting G-Series Towers offer an easy, low-cost solution to get light weight antennas in the air quickly. By using the G-Series tower as a self-supporting structure, you minimize land area usage. They are functional in a wide variety of wind speeds, with and without ice. See ROHN´s standard design to help identify the right structure for your project. Theses are the same sturdy, robust tower sections that ROHN has fabricated for years. Each larger model allows for more loading capacity.
Wind Loading, Antenna Loading and Wind Survivability ratings vs. Height Documentation Provided by ROHN is available here as a Resource, but is by no means complete by itself or a susbstitution for Engineering Conducted Specific to your Application. Contact Us with any Questions you may have regarding Use prior to Purchase. All Information regarding the ROHN 25G Tower line, Parts and Accessories is as accurate and complete as we can possibly provide given that this Resource Offering is subject to change without Notice and is beyond Our Control.
---
70 MPH Fastest Mile Wind Speed – No |c«

Height

2SG

45G

55G

65G

FT

Part No.

FP

Part No.

FT2

Part No.

FT2

Part No.

10,

19.7

25SS010

42.5

45SS010

75.0

55SS010

95.0

65SS010

20,

14.2

25SS020

22.0

45SS020

43.0

55SS020

95.0

65SS020

30,

6.4

25SS030

12.0

45SS030

26.0

55SS030

76.2

65SS030

35,

3.6

25SS035

8.7

45SS035

21.9

55SS035

61.2

65SS035

40'

1.5

25SS040

5.1

45SS040

15.0

55SS040

48.8

6SSS040

45^

2.3

45SS045

11.4

55SS045

39.0

65SS045

50,

6.5

55SS050

29.3

65SS0S0

55*

4.0

55SS05S

24.4

65SS055

60'

0.8

55SS060

18.4

65SS060

70,

8.7

65SS070

80,

0.9

65SS080
80 MPH Fastest Mile Wind Speed – No Ice

Height

25G

4SG

5SG

65G

FT2

Part No.

FT2

Part No.

FP

Part No.

FT2

Part No.

10.

14.3

25SS010

30.0

45SS010

57.0

55SS010

95.0

65SS010

201

9.0

25SS020

16.0

45SS020

30.0

55SS020

85.0

6SSS020

30.

3.7

25SS030

7.5

45SS030

17.0

55SS030

55.8

65SS030

35*

1.4

25SS035

4.7

4SSS035

14.5

55SS035

44.0

65SS03S

40*

1.4

45SS040

8.0

55SS040

34.1

65SS040

45,

5.9

55SS045

26.2

65SS045

50*

1.5

55SS050

19.7

65SS050

55,

14.5

65SS055

60,

9.4

65SS060

70*

1.B

65SS070
90 MPH Fastest Mile Wind Speed – No kc

Height

25G

45G

55G

65G

FT2

Part No.

FT2

Part No.

FT^

Part No.

FP

Part No.

10*

10_5

25SS010

25.0

45SS010

45.0

55SS010

95.0

65SS010

20*

6.9

25SS020

11.0

45SS020

23.0

55SS020

65.0

65SS020

30*

1.7

25SS030

4.0

45SS030

12.0

55SS030

40.0

65SS030

35*

1.9

45SS035

9.4

55SS035

32.2

65SS035

40*

4.0

55SS040

24.1

65SS040

45*

2.2

55SS045

17.7

65SS045

50*

14.5

65SS050

55,

7.7

6SSS0SS

60*

3.3

65SS060
For more information and specifications, click the height listed below:
160′ Tower        100′ Tower        60′ Tower
140′ Tower          90′ Tower
120′ Tower          80′ Tower
Heavy Duty Self-Supporting Tower
Our Heavy Duty Self-Supporting Tower comes with these standard items:
All sections & components are hot-dipped galvanized per ASTM A 153
All steel is manufactured to ASTM specifications with mil certificates
Anchor Bolt Base Cage
20′ Climbing Ladder sections with solid 3/4″ rungs
EIA Grounding Materials
Hardware
For more information and specifications, click the height listed below:
180′ Heavy        120′ Heavy
160′ Heavy        100′ Heavy
140′ Heavy          80′ Heavy
1810 Self-Supporting Tower
Our 1810 Self-Supporting Tower comes with these standard items:
Features an 18′ Face
All sections & components are hot-dipped galvanized per ASTM A 153
All steel is manufactured to ASTM specifications with mil certificates
Anchor Bolt Base Cage
Hardware
For more information and specifications, click the height listed below:
60′ 1810 Tower           30′ 1810 Tower
50′ 1810 Tower           20′ 1810 Tower
40′ 1810 Tower           10′ 1810 Tower