According to ANSI/EIA-222-F 1996

90 mph/78 mph + 1/2″ radial ice w/ (3 second gust) per OBC AND 旧C

CaAa

Rat Plate Area

Weight

Elevation

No Ice

29.5 sq ft

16.39 sq ft

200 lbs

160 ft

1/2″ Icc

36.0 sq ft

20.00 sq ft

350 lbs

160 ft

No Ice

50.0 sq ft

27.78 sq ft

350 lbs

160 ft to 130 ft

1/2″ Ice

60.5 sq ft

33.61 sq ft

600 lbs

160 ft to 130 ft

(1)一7/8″ coax Elevation 0 ft to 160 ft

Climbing Ladder □evation 0 ft to 140 ft

 

70 mph/61 mph + 1/2″ radial ice (Fastest MPH) per 0A-222-F

CaAa

Flat Plate Area

Weight

Elevation

No Ice

30.0 sq ft

16.67 sq ft

200 lbs

160 ft

1/2″ Ice

36.5 sq ft

20.28 sq ft

350 lbs

160 ft

No Ice

51.5 sq ft

28.61 sq ft

350 lbs

160 ft to 130 ft

1/2″ Ice

61.5 sq ft

34.17 sq ft

600 lbs

160 ft to 130 ft

(1)一7/8″ coax Elevation 0 ft to 160 ft

Climbing Ladder Elevation 0 ft to 140 ft



PIPE LEGS 42 KSI MIN YIELD 10 GA TUBE LEGS 30 KSI MIN YIELD

ANCHOR  OLTS  AMERICAN TOWER, 1"0 x 3'一6" MIN EMBEDMENT INTO CONCRETE.
180* END HOOK PER ACL SEE DRAWINGS BY AMERICAN TOWER FOR ANCHOR BOLT ORIENTATION.
#5 @ T MAX C/C-TOP EA WAY
#5 © T MAX C/C—j    I FIN GRADE-
BOT EA WAY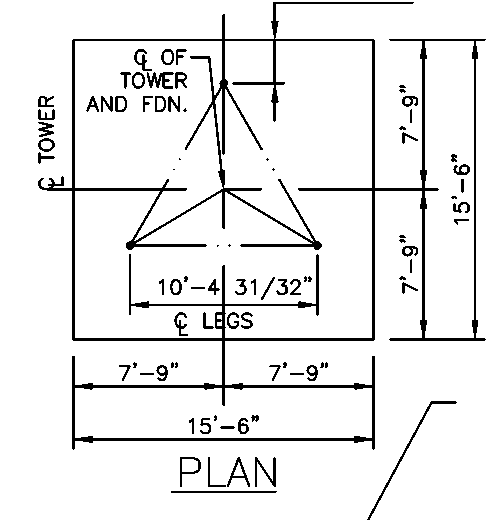 NOTES:
1.    ALL CONCRETE SHALL HAVE A MINIMUM COMPRESSIVE STRENGTH OF 3000 PSI @ 28 DAYS.
2.    REINFORCING STEEL SHALL CONFORM TO THE REQUIREMENTS OF ASTM A615 (GRADE 60).
3.    TOTAL CONCRETE = 35.6 CUBIC YARDS.
4.    FOUNDATION DESIGN BASED UPON THE FOLLOWING:
ALLOW BEARING PRESSURE:    2000 PSF
UNIT WEIGHT:    100 PCF
WATER AND ROCK LOCATED BELOW FOOTING
MAT FOUNDATION
https://www.abtersteel.com/structural-pipe/galvanized-pipe/
FOOTING MUST BEAR ON UNDISTURBED SOIL OR COMPACTED BACKFILL
| | |
| --- | --- |
| 160* STANDARD | FOUNDATION |
| BY: DOW | DATE: 12/21/02 |