Microwave towers, also known as Microwave Structural Steel Tower, microwave communication tower, built on the ground, roof, peak. Microwave tower Wind capacity is strong, tower more use angle steel material supplemented by steel plate material, can also be composed of all steel pipe materials, tower components between the use of bolt connection, all tower components in the process after the hot-dip galvanized anti-corrosion treatment.
  The steel tower is composed of tower boots, tower body, avoiding tower, lightning rod, platform, ladder, antenna bracket, feeder frame and lightning diversion.
Product description:
Our company has earned accolades in offering Microwave Transmission Tower to the clients. This product is tested by the team of quality controllers on various parameters to ensure flawless finish. Microwave Transmission Tower is known for various attributes such as easy installation, corrosion resistance and high strength and many more.
Product Name:Self Supporting 3 Legged steel tube microwave telecommunication towers
Material:Q235/Q345 as per request
Surface Treatment:Hot Dip Galvanization,can be powder coated or painted according to clients' request
Galvanized Hot Dip Galvanization,thickness is>=85um
Welding:Welding complies with AWS D1.1 standard.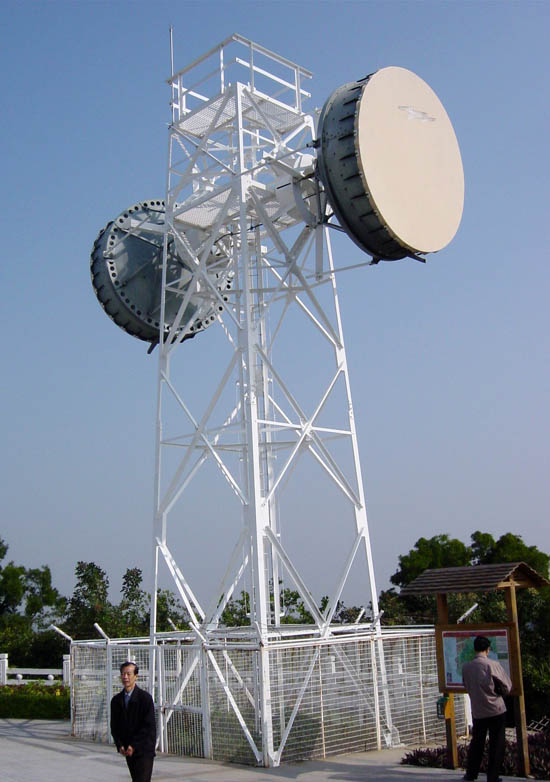 CO2 welding or submerged arc auto methods
No fissure, scar, overlap, layer or other defects
Internal and external welding makes the pole more beautiful in shape
If customers need any other requirements of welding, we also can make adjustment ad your request
Joint:Joint with insert mode, flange mode
Applications:

Microwave Tower 
Ground Based & roof top galvanized telecom tower as per latest design approved by various national and international customers. This having application in the Telecom sector with a demand worldwide.

Fabricated Structure (Various applications)

Welded structures for overhead power transmission i.e. Railways. Steel plant and power plants, Lighting Towers, Pipe Structures, Cable Trays foundation bolts & accessories as per customer design..
Microwave Communication Steel Tower Process: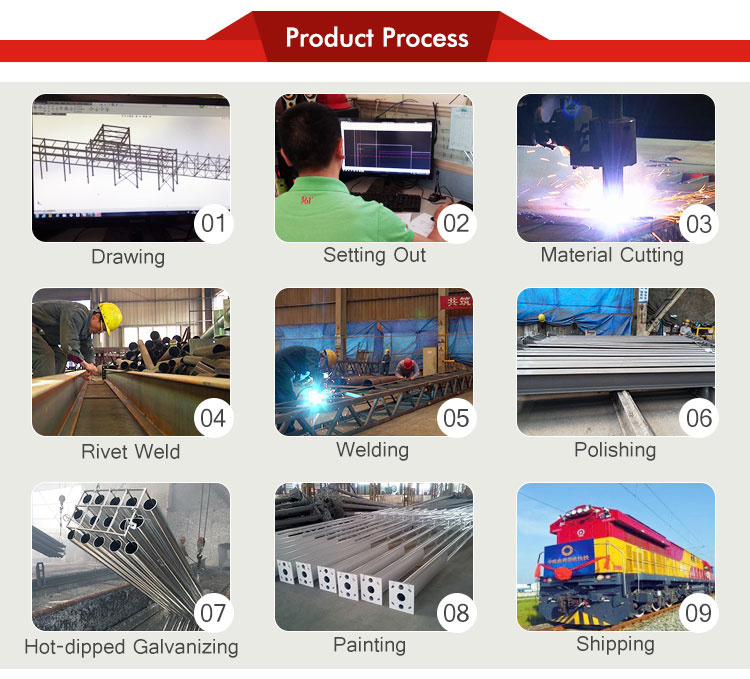 Product uses the microwave tower belongs to the signal launch tower's one kind, also is called the Signal transmitter tower or the signal tower, the main function supports the signal launch, provides the support for the signal transmitting antenna.
Product Features In the construction of modern communications and radio and television signal transmission towers, regardless of whether the user chooses a ground plane or a rooftop tower, they all use high-profile communication antennas to increase the service radius of communication or television transmission signals and achieve ideal professional communication. The roof also plays a dual role in building lightning protection grounding, aviation warnings, and decorating office buildings.
Product role Microwave tower is mainly used for microwave, ultra-shortwave, wireless network signal transmission and transmission. In order to ensure the normal operation of the wireless communication system, the communication antenna is generally placed at the highest point to increase the service radius so as to achieve an ideal communication effect. The communication antenna must have a communication tower to increase the height. Therefore, the communication tower plays an important role in the communication network system. The national standard communication tower product produced by the company has been moved for many years. Unicom Telecom's public security forces and other departments have won praise and praise.